World Day of Prayer is searching for five new Board Members to fill vacancies in the classes of 2016* and 2017*! Do you know someone who would make a great WDP USA Board Member? Find out if they (or you!) would meet the requirements we're looking for.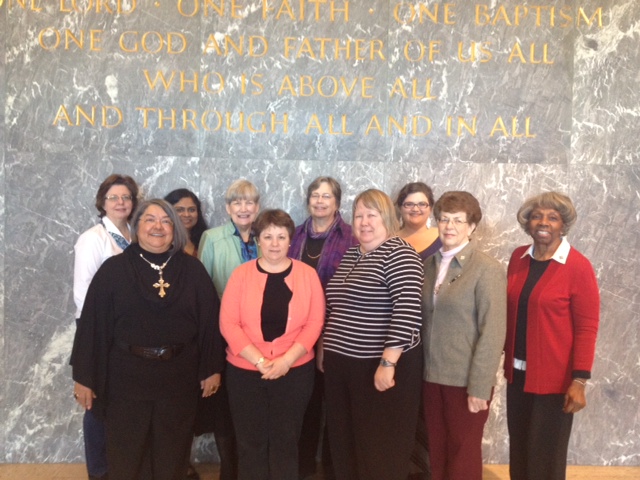 The Board strives for a composition that is interdenominational, intergenerational, multi-cultural, and inclusive of women who serve as chaplains, missionaries, and seminarians. Particular attention in elections will be given to ensuring diversity of age, race and ethnicity, denominational affiliation, and geographic location.
The Board of Directors consist of
15 members – women who are at least 18 years of age
active participants in a Christian denominational and/or church-related women's organization and will actively support World Day of Prayer
Source: WDP USA Bylaws (Article II, Board: Section 2, Number and Qualifications)
Qualifications and capabilities required:
Service as a representative (local, national, international, etc.) of a Christian church women's organization or a Christian 'constituent ' organization
Experience with and/or commitment to WDP on the local level
Commitment to global ecumenism, global cooperation, and sharing responsibility
Knowledge of organizational procedures, budget development/financial oversight experience (or willingness to learn) with responsibility for financial wellbeing of an organization
Ability to give the necessary time to the WDP Board and its work
Good communication skills
Ability to work cooperatively with staff
Basic computer and internet literacy
*At this time, we are especially seeking the following skills: funds development, movement-building/networking, social media, and marketing/public relations.
Qualifications, experiences, and skills desired but not required:
Experience living in and/or knowledge of other cultures/languages
Knowledge of the needs of women, children, and families in different situations and conditions around the world
Experience with projects which support women and families
Theological training and/or adult education in theology
Experience with liturgy, Bible study, and music
Experience in leadership training, workshop presentation/facilitation, and public speaking
Experience working with websites and/or social media
Skills in writing, editing, and resource promotion/marketing
Experience in grant writing and other facets of funds development
Experience developing an organizational budget and keeping clear financial records
WDPUSA Board Meetings
The Board typically meets twice a year in New York (Spring and Fall) at a location determined by the Board. Travel and lodging costs for meetings are covered by the Board funds. Meetings are scheduled from Friday afternoon to Sunday afternoon.
Responsibilities and Roles of Board Directors
Board members:
Maintain and implement the global vision of World Day of Prayer while also supporting the financial health of the movement;
Share responsibility for providing guidelines and resources to the many groups who organize and carry out World Day of Prayer services and celebrations in the USA;
Advocate for World Day of Prayer celebrations and services in local communities, among denominational, church-related groups, etc., including promotion of WDP at local, regional, or national conferences;
Share talents, skills, information, and knowledge in Board deliberations;
Serve on Committees of the Board;
Make decisions about financial grants (through offerings received) to be disseminated to various organizations that provide services to women and children throughout the world who are often adversely impacted by global factors;
Cultivate/identify prospective Board of Directors;
Perform other responsibilities required to carry out the work of the Board.
(Bylaws, Article II: Section 4)
Board Meeting Attendance Policy
Unexcused absence from two (2) regular meetings of the Board in any 12-month period (without limitation) will be considered cause for removal. Excused absences can be arranged and approved with the WDP USA Committee Chairperson prior to meetings.
Click here to download the Nomination Form.  Follow the directions on the form to submit it by June 1, 2014.
*Board Members serve until the end of the calendar year of their "class" year.